This is so beautiful-I had to share!
Featured Member Quilts - 24 Blocks
This is the loveliest keepsake quilt I can imagine, it was featured on 24 Blocks FB page. It was made by Lucy Portsmouth for one of her customers from their wedding dress.
Lucy commented:
"I made this quilt from a wedding dress... the beading was lifted off the dress and re-attached to the quilt, and the whole thing is machine embroidered with a flowing leaf pattern.... the tulle ruffle around the edge was made from the dress petticoat."
The amount of handwork involved is clear in the photo and Lucy's hard work has resulted in a beautiful quilt.
I guess this kind of project has never occurred to me, because I've never had a big, formal wedding, and no expensive gown- but.....it makes so much sense! A wedding dress is often the most special, if not the most expensive item in a woman's wardrobe. Most women don't want to sell their wedding dress, but why just put it away for future use by a daughter or other relative? It may be difficult to consider cutting up such a treasure, but why not use the material to create something elegant that can be used & enjoyed every day?! Not just the fabric; add the lace and other special details like the buttons, beads & other trim. Maybe one of the bridesmaids would be willing to "contribute" her dress to the project, to add a bit of color and continue the wedding theme. I imagine the tricky part of the construction, is reusing the delicate fabrics typically used for wedding dresses. Foundation piecing might be a good technique to use.
What an amazing gift for a sister or friend who can't sew!
Inspired by this, I explored online a bit to see what info I could find. Unfortunately, I mostly found ads by those who want to create, then sell you a memory quilt. After digging around, I did find these tutorials....
This first one is from www.Netplaces.com:
"Quilt A Memory" by Terrry L. Rye & Jacquelynne Johnson
Quilt A Memory Pattern~
This quilt isn't made from a wedding dress, but I love the look. Their free pattern is clear & detailed, although a bit dated! It would be easy to use this pattern as a guide to take your own direction. This is a signature quilt made from white cotton squares signed by guests at the wedding reception.
Also a good idea from www.WeddingBee.com.....
How To Make a Memory Quilt~
This is also a signature quilt with a nice tutorial about stamping the signatures permanently with ink. This one also suggests collecting the signatures at the bridal shower rather than the wedding reception...interesting?
I suppose any traditional block can be used, or simple crazy quilting:
(via: Pinterest)
Or more ornate:
(via: kittyandmedesigns.blogspot.com)
I have to show these, just because these are so pretty: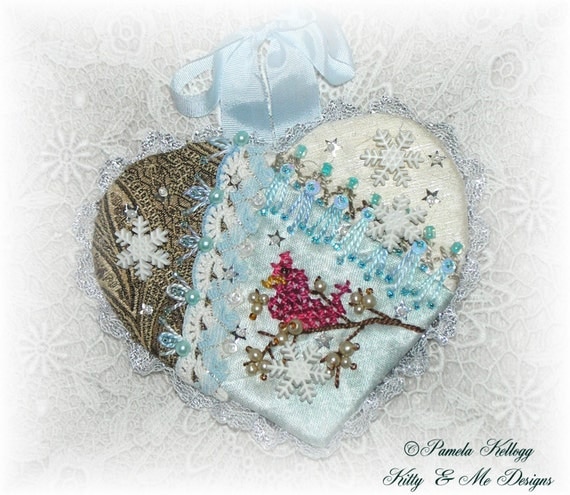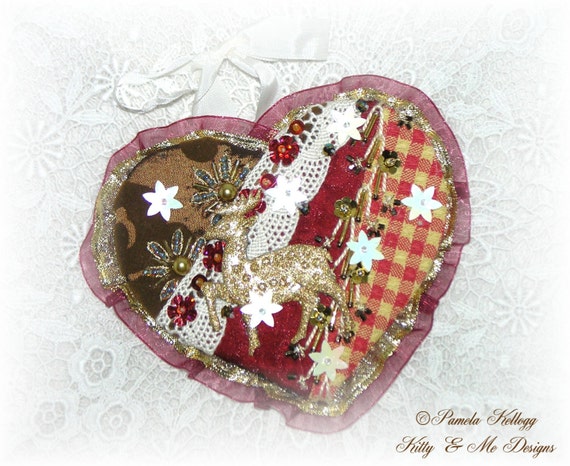 Crazy quilted Christmas ornaments, also designed by Pamela Kellogg of
Kitty and Me Designs
.
Interested in Crazy Quilting?:
History of Crazy Quilts~
Wedding dresses aren't of much use sitting away in a closet just wasting space. Think about repurposing them into something useful & full of beautiful memories! Also, there are many lovely wedding dresses that have been donated to thrift shops or are for sale in consignment shops. Not all will get a second life in a wedding and the fabric they contain might a special, new keepsake.